Frantoiano olive
origin, diffusion, importance
The cultivation of the designation is linked to the identification zone. And 'it spreads sporadically in the province of Pisa and especially in the municipality of Terricciola. The plant has morphology similar to the "Frantoio" but stands out for some important characters of the inflorescence, fruit and seeds. It 'been reported a limited tolerance to cold and diseases and a high sensitivity to scabies and olive leaf spot.
Agronomic Characteristics
It 'a self-fertile cultivation. The pollination trials have shown that there is inter-compatibility with the pollen of "Rocket" and "Frantoio". Flowering coincides with the third week of May and the first ten days of June. Productivity is good but alternate. The fruits have a good oil yield mature at a late date and at scale. The oil is considered of excellent quality '(fine, aromatic, stable over time).
tree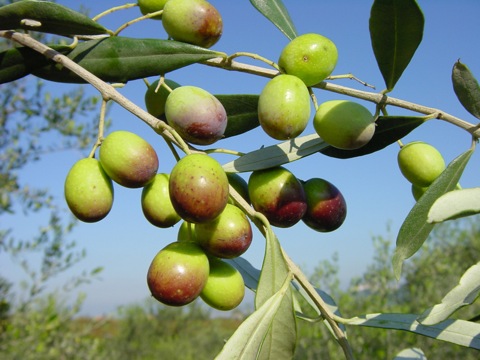 VIGOUR: Medium-high
CARRIAGE: pendulous
CANOPY: bushy and expanded
NOTE: fruit bearing branches slender and drooping

adult leaf
SHAPE: elliptic-lanceolate
BEND: flat
SURFACE: flat, turned down, sometimes helicoidal
SIZE: medium-large
ANGLE OF APEX: acute
BASE CORNER: acute
POSITION OF MAXIMUM WIDTH: Central
COLOR OF UPPER:
matte dark green COLOR OF LOWER: green-gray
AVERAGE BIOMETRIC DATA: mm LENGTH: 68
mm WIDTH: 14 | REPORT LUNGH./LARGH .: 4,86 ​​
NOTE: asymmetrical leaves with mucrone long and turned sideways.

inflorescence
STRUCTURE: long and sparse
SHAPE: paniculata
LENGTH mm: 45
AVERAGE NUMBER OF FLOWERS: 17-21
NOTE: flowers provided with long peduncle

result
COLOUR AT HARVESTING: green or turned dark
RIPENING: late and gradual
SHAPE: elliptic elongated
SYMMETRY: asymmetrical
POSITION OF MAXIMUM DIAMETER: apical
SIZE: average
APEX: subconical
BASIC: tapered or rounded
CAVITY 'STALK: surface, circular and small
EPICARP: with a thin layer of bloom and numerous lenticels and small