Pendolino olive
origin, diffusion, importance
The origin and 'still quite uncertain. Originally from the Florentine area, and 'it cultivated in all the olive growing regions of Tuscany. He has found widespread also in central Italy primarily as a pollinator. Plants are appreciated for the valuable ornamental characteristics. E 'sensitive to fleotribo, olive leaf spot and sooty mold. Widespread throughout Italy. Tree very vigorous in weeping habit of consistently high productivity. Self-incompatible; good pollinators Maurino and Weeping. Fruit ovoid, small arms, black collection. in high oil yield, 23%, with decent quality oil. Susceptible to scabies, eye of peacock and the cold.
Agronomic Characteristics
Self-incompatible. Good pollinators are the results: "Leccino", "Rossellino Cerretano", "Piangente", "Moraiolo" and "Frantoio". And 'good pollinator for many crops. Ovary abortion and 'low (10-15%). Flowering and 'pretty early; production and 'high and constant. Fruit ripening and 'medium early' and contemporary. Oil yield is on average high and oil and 'appreciated for its organoleptic characteristics.
tree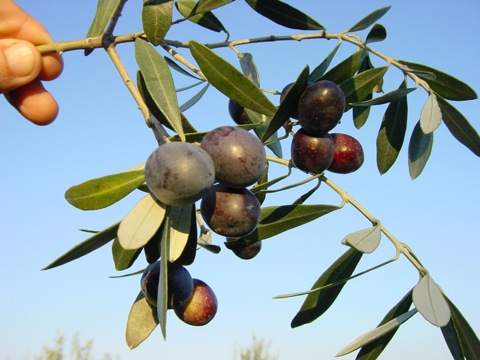 VIGOUR: average
CARRIAGE: pendulous
CANOPY: on average, large and dense
NOTE: the branches are long and pendulous with peaks not dating and long internodes

adult leaf
SHAPE: lanceolate
BEND: flat or slightly epinastic
SURFACE: turned down
SIZE: average
ANGLE OF APEX: acute
BASE CORNER: acute
POSITION OF MAXIMUM WIDTH: center-apical
COLOR OF UPPER: dark green-gray rather
COLOR OF LOWER: silvery-gray
AVERAGE BIOMETRIC DATA:
mm LENGTH: 60.96
mm WIDTH: 11:11
REPORT LUNGH./LARGH .: 05/24

inflorescence
STRUCTURE: very long and compact
SHAPE: paniculata
LENGTH mm: 58-60
NUMBER OF FLOWERS: 20-35
NOTE: flowers, of medium size (corolla of 7-8 mm in diameter), produce abundant pollen

result
COLOUR AT HARVESTING: Black
TURNED DARK COLOUR: medium early and simultaneous
SHAPE: ellipsoidal
SYMMETRY: asymmetrical
POSITION OF MAXIMUM DIAMETER: center-apical
SIZE: small
APEX: rounded
BASIC: tapered
CAVITY 'STALK: circular, narrow and medium deep
EPICARP: and pruinose with sparse lenticels