Correggiolo olive
origin, diffusion, importance
Originally from the Florentine area, and is' spread throughout Tuscany where he also assumed several denominations. The term "Correggiolo" fact shall also indicate olive trees caused by other "races." Present in regions of central Italy, this cultivar 'also was widespread in Russia and Australia. It showed poor tolerance to cold and winds. High and 'sensitivity' to scabies, medium to olive leaf spot.
Agronomic Characteristics
Virtually self-incompatible (few fruits can be generated by self-pollination). 20-25% of flowers presents the ovary aborted. Excellent pollinators were "Rocket" and "Frantoio"; discrete "Gremignolo Bolgheri" and "Coarse". In turn, the "Correggiolo" presented good attitude pollinating against "Frantoio" and "Rocket". Flowering and 'rather early. The production and 'good and steady; the fruits ripen in clusters at scale. The oil yield is high (19-20%) and the product is considered of excellent quality. The olives may also be used for direct consumption.
tree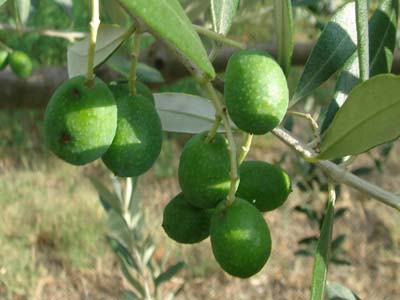 VIGOUR: high
CARRIAGE: semipendulo
CANOPY: expanded and moderately thick
NOTE: the tops of young branches are often dating

adult leaf
SHAPE: elliptic-lanceolate
BEND: flat or epinastic
SURFACE: turned down or helicoidal
SIZE: average
ANGLE OF APEX: opened
BASE CORNER: opened
POSITION OF MAXIMUM WIDTH: central or apical
COLOR OF UPPER: intense green
COLOR OF LOWER: light green-gray
AVERAGE BIOMETRIC DATA:
mm LENGTH: 57.3
mm WIDTH: 16.1
REPORT LUNGH./LARGH .: 3,56
NOTE: leaves mostly symmetrical

inflorescence
STRUCTURE: medium and compact
FORM: paniculata
LENGTH mm: 33
NUMBER OF FLOWERS: 24-27
NOTE: number of highly variable
flowers
result
COLOUR AT HARVESTING: green or turned dark
RIPENING: late and gradual
SHAPE: ovoid
SYMMETRY: slightly asymmetric
POSITION OF MAXIMUM DIAMETER: apical
SIZE: average small
APEX: rounded
BASIC: tapered
CAVITY 'STALK: small. deep, circular
EPICARP: with small lenticels inconspicuous