Leccino olive
origin, diffusion, importance
The origin and 'still quite uncertain. and 'it reported in the literature as identified cultivation is in the Florentine area than in Pistoia. and 'it is grown in all Italian olive-growing areas and in the major distribution areas of the world. and 'it notes the particular tolerance of "Leccino" of adversity' weather (cold, fog and wind) and to some diseases (Mange, olive leaf spot and decay). conversely, this cultivar has shown a special sensitivity 'to the sooty mold. cultivated in Tuscany, Umbria, and brands. vigorous plant, with wide crown and hanging branches. very large fruit, fleshy, dark purple when ripe. high production; remarkable performance, with good quality oil. very resistant eye of Peacock, discreetly to scabies and cold. self-sterile, they are excellent pollinator varieties Morchiaio and Pendolino, discretely variety mill.
Agronomic Characteristics
Self-sterile. Only a small part of the flowers are imperfect (10% less abortion). good pollinators are the results: "Gremignolo bolgheri", "Maremma", "Pendolino" and "Morchiaio"; discrete, "weeping", "mill" and "trill". blooms in late May-early June and fruiting and 'the greatest portion in the basal and middle areas of the branch. the production and 'high and constant while the maturation and' early and uniform. The fruits are used for oil extraction that "black" olives for the table.
tree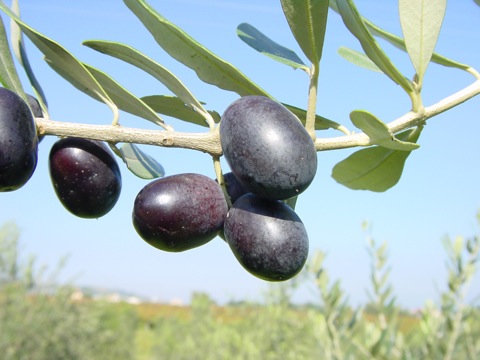 VIGOR: high
CARRIAGE: semipendulo
CANOPY: large and dense
NOTES: the branches, often pendulous, have peaks dating and short internodes.

adult leaf
SHAPE: elliptic or elliptic-lanceolate
BEND: flat
SURFACE: flat sometimes helicoidal
SIZE: average
APEX ANGLE: opened
BASELINE ANGLE: opened
POSITION MAX WIDTH: Central
COLOR OF UPPER: green-gray
COLOR OF LOWER: gray-green with yellow highlights

average biometrics:
LENGTH: mm: 59.55
WIDTH: mm: 14.80
LUNGH./LARGH REPORT: 4.4

inflorescence
PRIVATE: Short and medium sparse
FORM: paniculata BRANCHING
AVERAGE LENGTH: mm: 25
AVERAGE FLOWER NUMBER: 17-20
NOTES: the flowers are medium sized (corolla of 7 mm in diameter).
frequent enough leafy florets.

result
COLOR COLLECTION: black-purple
VERAISON: early and simultaneous
FORM: elongated egg-shaped or ellipsoidal
SYMMETRY: slightly asymmetric
MAXIMUM diameter position: Central
SIZE: average
SUPERSCRIPT rounded
BASIC: flattened
CAVITY 'PEDICLE: circular, medium broad and deep;
EPICARP: pruinose and sprinkled with numerous little lenticels.